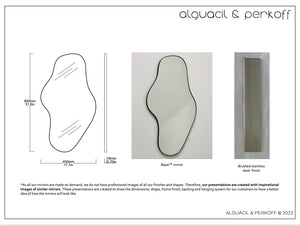 Bespoke Bapa™ Mirror Brushed Stainless Steel Frame Finish (800 x 450 x 24mm)
Alguacil & Perkoff
Regular price £775.00 Sale
The price in this bespoke entry is provided for an order of one mirror.
Bespoke Bapa™ mirror with standard silver mirror tint (clear tint) and brushed stainless steel frame finish
Mirror dimensions:
31.5" Height x 17.7" Width x 0.94" Depth (800 x 450 x 24mm)
Side mark: KBS/158 Dune Rd/Office PR/Mirror
Our usual fabrication lead time is about 5-6 weeks from receipt of payment. To be confirmed at the of order.  
The above quote is valid for the next 30 days. 
**All prices above exclude local taxes and import duties.**