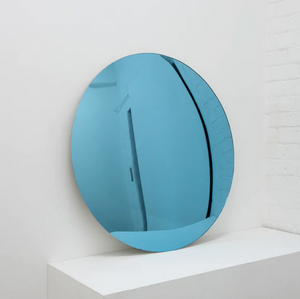 Bespoke Obis™ Convex Mirror Blue Tinted Frameless with Floating Effect (914mm)- Final Payment
Alguacil & Perkoff
Regular price £2,310.00 Sale
THIS IS THE FINAL PAYMENT REPRESENTING 50% OF THE TOTAL VALUE OF THE MIRRORS PLUS PACKING AND SHIPPING AS QUOTED BY EMAIL FOR PAYMENT PRIOR TO DELIVERY. 
Bespoke Obis™ Convex mirror blue tinted frameless with a floating effect.
Mirror dimensions: 36" Diameter (914mm)
Our usual fabrication lead time is about 8 weeks from receipt of payment. To be confirmed at the of order.  
The above quote is valid for the next 30 days.    
​**All prices above exclude local taxes and import duties.**  
*The prices for this quote are agreed by email - Quote sent on the 29/06/2023*