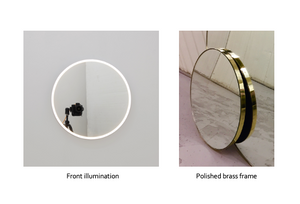 Bespoke Orbis™ mirror Standard Silver Tint Polished Brass Frame Front Illumination (500 x 30mm)
Alguacil & Perkoff
Regular price £995.00 Sale
Bespoke Orbis™ mirror Standard Silver Tint Polished Brass Frame Front Illumination (500 x 30mm) 
Mirror dimensions: 19.7" Diameter x 1.18" Depth (500 x 30mm) 
Illumination specs:
- AC to DC Low Voltage Led Light Driver 60W Transformer Input 100V-260V - Output 12/24V / 2.5A, lP67 Waterproof, Constant Voltage Power Supply.
- The transformer(s) / driver(s) will be fitted within the back of the mirror for future access if required.
- The illumination is primarily a decorative feature that creates a mood light.
Our usual fabrication lead time is about 4-5 weeks. From receipt of payment

The above quote is valid for the next 30 days.   
**All our prices exclude import duties and local taxes.**