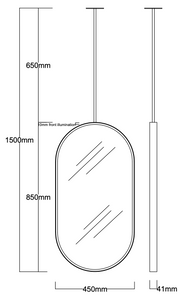 Bespoke Suspended Capsula™ Mirror with Polished Stainless Steel Frame 1 Rod (850 x 450 x 41mm)
Alguacil & Perkoff
Regular price £2,450.00 Sale
Bespoke Suspended Capsula™ Mirror with Polished stainless steel frame
Mirror dimensions: Height 850mm x Width 450mm x Depth 41mm  
Mirror drop: 650mm

The mirror is completed with:
- 1 rod (UN)
- Ceiling circular plate for ceiling suspension
- White aluminium backing
- Front illumination - 24V - Warm White - 2800-3300k - 14.4W per meter
Due to the mirror weight and dimensions, the mirror would be delivered with the rod unattached. Attaching the rods is quite straightforward, and we provide a short video that makes it easy for the installer. 
Our usual fabrication lead time is about 6 weeks from receipt of payment. To be confirmed at the of order.  
The above quote is valid for the next 30 days.   
**All prices above exclude local taxes and import duties.**