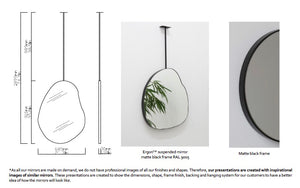 Bespoke Suspended Ergon™ Organic Mirror Matte Black Frame 1 Rod (910 x 685 x 30mm)
Alguacil & Perkoff
Regular price £1,550.00 Sale
Bespoke suspended Ergon™ organic mirror with standard silver mirror tint (clear tint) and smart matte black frame (RAL 9005) 
Mirror dimensions: 35.8" Height x 2'3" Width x 1.18" Depth (910 x 685 x 30mm) 
Mirror drop 38.9" (989mm) 
OH: 74.7 (1899mm)
The mirror is completed with:
- 1 rod (UN) 
- Ceiling rectangular plate for ceiling suspension 
- Black aluminium backing colour
- SM: Hartland
Our usual fabrication lead time is about 6-7 weeks from receipt of payment. To be confirmed at the of order.  
The above quote is valid for the next 30 days. 
**All prices above exclude local taxes and import duties.**