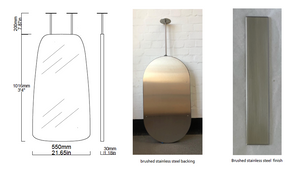 Bespoke Suspended Mirror Organic Shape Brushed SS Frame (1016 x 500 x 30mm)
Alguacil & Perkoff
Regular price £2,690.00 Sale
Bespoke suspended mirror with an organic shape.
- standard silver mirror tint (clear tint)
- brushed stainless steel frame
- solid stainless steel backing
- 2 arms (rods) (A)
- Rectangular ceiling plate for ceiling suspension
Mirror dimensions: 40" Height x 19.68" Width x 1.18" Depth (1016 x 500 x 30mm)
Mirror drop: 7.87" (200mm) 
All our prices exclude import duties and local taxes for deliveries outside the United Kingdom.
Shipping charges are DAP (Delivered at Place).
Fabrication lead time is about 6 weeks form receipt of order.