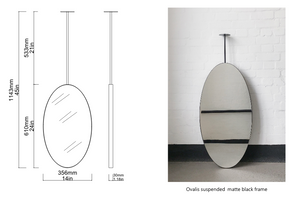 Bespoke Suspended Ovalis™ Matte Black Frame Double sided (610 x 356 x 30mm)
Alguacil & Perkoff
Regular price £1,320.00 Sale
Bespoke suspended Ovalis™ mirror double sided with standard silver mirror tint (clear mirror) and timeless Matte black frame (RAL 9005) 
Mirror dimensions: 24" Height x 14" Width x 1.18" Depth (610 x 356 x 30mm) 
Mirror drop: 21" (533mm)  
OH: 45" (1143mm) 
The mirror is completed with:
- Ceiling round plate for ceiling suspension 
- 1 rod (un) 
 **All above prices exclude import duties and local taxes.**  
In order to reduce to a minimum increasing shipping costs, we do offer our clients the option to supply those mirrors with the rods unattached. Attaching the rods is quite straight-forward, and we provide a short video that makes it easy for the installer. However should you wish to receive the mirror fully assembled ready to instal, it is also possible. Please let us know if you are interested in this option and we will be very happy to make a quotation for you.   
Our current fabrication lead time is about 6 weeks.