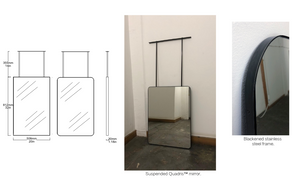 Bespoke Suspended Quadris™ Silver Mirror Tint Blackened Stainless Steel Frame (813 x 508 x 30mm)
Alguacil & Perkoff
Regular price £1,830.00 Sale
Bespoke Suspended Quadris™ mirror

Blackened Stainless Steel frame

Mirror dimensions: 20" (508mm) Wide x 32" High (813mm) x 1.18" Deep (30mm)
Mirror drop: 14" (355mm) 
The mirror is completed with:
- Long rectangular ceiling plate 
- Colour of powder coated backing: To Be Confirmed 
- 2 rods (un-attached)
Our fabrication lead time is about 6 weeks. 
Shipping to an address in the typically USA requires 4-5 working days via DHL Express. 
**All above prices exclude import duties and local taxes.** 
 The above quote is valid for the next 30 days.