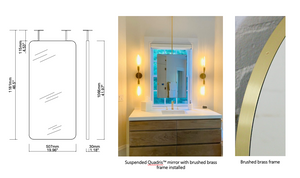 Bespoke Suspended Quadris Silver Tint Brushed Brass Frame 2 rods (1066 x 507 x 30mm)
Alguacil & Perkoff
Regular price £2,250.00 Sale
Bespoke suspended Quadris™ mirror with silver tint and elegant brushed brass frame
Mirror dimensions: 41.97" Height x 19.96" Width x 1.18" Depth (1066 x 507 x 30mm) 
Mirror drop: 4.53" (115mm)  
OH: 46.5" (1181)
The mirror is completed with:
- 2 rods (attached) 
- Ceiling round plate for ceiling suspension 
- Rounded corners
- Backing color: TBC  
**All above prices exclude import duties and local taxes.**  
Our fabrication lead time for such a mirror is typically about 6 weeks.  
The above quote is valid for the next 30 days.