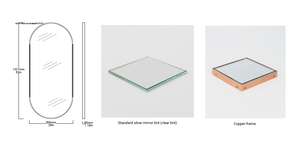 Set of 2 Bespoke Capsula™ Mirrors Brushed Copper Frame Front Illumination (1321 x 600 x 30mm) - Final Payment
Alguacil & Perkoff
Regular price £2,185.00 Sale
THIS IS THE FINAL PAYMENT REPRESENTING 50% OF THE TOTAL VALUE OF THE MIRRORS PLUS PACKING AND SHIPPING AS QUOTED BY EMAIL FOR PAYMENT PRIOR TO DELIVERY. 

Set of 2 bespoke Capsula™ mirrors standard silver mirror tint (clear tint) with brushed copper frame finish and front illumination.  
Mirror dimensions: 52" Height x 26" Width x 1.18" Depth (1321 x 600 x 30mm)  
- Front illumination -24V Warm White 2800-3300K 14.4W/m - CCT IP67  
- Sensor switch
- SM: Girls Bath

Our usual fabrication lead time is about 5 weeks from receipt of payment. To be confirmed at the of order. 

The above quote is valid for the next 30 days.    

​**All prices above exclude local taxes and import duties.**  

*The prices for this quote are agreed by email - Quote sent on the 04/05/2023*