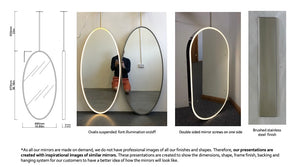 Set of 3 Bespoke Suspended Ovalis™ mirrors Brushed Stainless Steel Frame Double Sided Front Illumination one Side (970 x 480 x 41mm)
Alguacil & Perkoff
Regular price £8,850.00 Sale
The price in this bespoke entry is provided for an order of three mirrors.
Set o 3 bespoke suspended Ovalis™ double sided mirrors with standard silver mirror tint (clear tint) and elegant brushed stainless steel frame
 Mirror dimensions: 38.18" Height x 18.89" Width x 1.61" Depth (970 x 480 x 41mm) 
Mirror drop: 22" (559mm) 
The mirror is completed with:
- 1 rod (UA) 
- Ceiling round plate for ceiling suspension 
- Front illumination on one side 2500 to 2900K, 14.4W/m
- on/off sensor

- Screws on one side
Our current fabrication lead time is about 6-7 weeks. 
The above quote is valid for the next 30 days.   
**All prices above exclude local taxes and import duties. ** 
 The same specs for order 1365 in Shopify (1751AP)