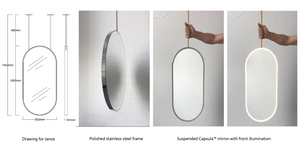 Set of 2 Bespoke Suspended Capsula™ mirror Polished Stainless Steel Frame Front Illumination (1000 x500mm)
Alguacil & Perkoff
Regular price £4,800.00 Sale
Set of 2 Bespoke suspended Capsula™ mirror with standard silver mirror tint (clear mirror) and elegant polished Stainless Steel Frame 

Mirror dimensions: Height 1000mm x Width 500mm x Depth 41mm 
Mirror drop: 450mm 
Overall Height: 1450mm  
The mirror is completed with:
- 2 rods (UN) 
- Front Illumination 24V - Warm White - 2500-2900k - 14.4W per meter 
- Ceiling round plate for ceiling suspension 
-  White powder coated backing
*** IMPORTANT NOTE - All prices above exclude local taxes and import duties. Prices in HUF are provided for guidance only based on our best estimate of today's Exchange Rate, but are subject to variation ***  
 The current fabrication lead time is 6 weeks from receipt of payment. 
The above quote is valid for the next 30 days.