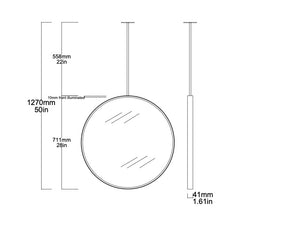 Set of 2 Bespoke Suspended Orbis™ Mirrors Brushed Brass Frame Front Illumination 1 Rod (711.2 x 41mm)
Alguacil & Perkoff
Regular price £4,540.00 Sale
Set of 2 Bespoke Suspended Orbis™ Mirrors with an elegant Brushed brass frame Front Illumination 1 Rod (711.2 x 41mm)
Mirror dimensions: Diameter 28" x Depth 1.61" (711.2 x 41mm) 
Mirror drop: 22" (558.8mm)
Overall height: 50" (1270mm)
The mirrors are completed with:
- 1 rod (UA) 
- Ceiling plate: Round
- Front illumination - 24V Warm White  2800-3300K 14.4W/m - CCT IP67
- Backing: Black 
Due to the mirrors weight and dimensions, they would be delivered with the rod unattached. Attaching the rod is quite straightforward, and we provide a short video that makes it easy for the installer. 
Our usual fabrication lead time is about 7 weeks from receipt of payment. To be confirmed at the of order.  
The above quote is valid for the next 30 days.   
**All prices above exclude local taxes and import duties.**