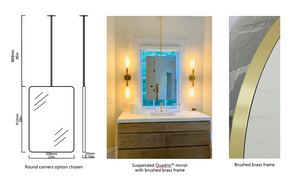 Bespoke Suspended Quadris™ Mirror Brushed Brass Frame (812 x 558 x 30 mm)
Alguacil & Perkoff
Regular price £1,390.00 Sale
Bespoke suspended Quadris™ mirror with elegant brushed brass frame 
Mirror dimensions: 32" Height x 22" Width x 1.18" Depth (812 x 558 x 30 mm) 

Mirror drop: 35" (889mm)  
The mirror is completed with:
- 1 Rod  (un-attached)
- Round corners
- Mirror backing color TBC
Packing & shipping to the USA rod unattached is £199.00 (about 240.00 USD) per piece via DHL Express fully insured.   
**All above prices exclude import duties and local taxes.**  
Our fabrication lead time for such a mirror is typically about 6 weeks. Please note that our workshop will be in partial shutdown for the last two weeks of August for our yearly holiday breaks and workshop maintenance, which may add one to two weeks to the lead time for mirrors ordered in July and August. We will however do our very best to deliver within about 6 weeks from receipt of payment in case of an order.