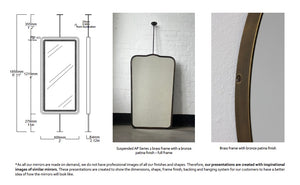 Set of 2 Bespoke Suspended Quadris™ Mirrors Full Frame Brass with Bronze Patina Finish 2 rods(Top & Bottom) Special Front illumination (1219 x 609 x 54mm)
Alguacil & Perkoff
Regular price £8,980.00 Sale
The price in this bespoke entry is provided for an order of two mirrors.  
Set of 2 bespoke suspended Quadris™ mirror  with standard silver mirror tint (clear tint) and brass frame with bronze patina finish – Full frame
Mirrors dimensions: 4' Height x 2' Width x 2,12" Depth (1219 x 609 x 54mm)  
Top drop: 1'2" (355mm) - Bottom drop: 2' (609mm)  
Each mirror is completed with:
- Brass bronze patina full frame 0.59"(15mm)  
- 2 rods – Top & Bottom (UN)  
- Hanging system: TBC  
- Round corners  
- Special front illumination – 0.98" (25mm) - 24V Warm White 2500-2900K-75W/14.4m -IP67   
- Black aluminium backing colour  
Our usual fabrication lead time is about 6-7 weeks from receipt of payment. To be confirmed at the of order.  
The above quote is valid for the next 30 days. 
**All prices above exclude local taxes and import duties.** 
* Please note that our bronze patina finish is a highly skilled and specialised process. It is therefore a very subjective, artistic and individualistic process. No two frames can truly be identical, which of course is part of their charm as they are truly unique. Any sample or images provided to obtain your approval on the desired finish are therefore for guidance only.