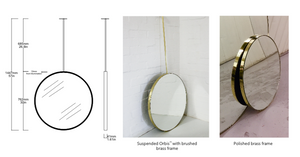 Set of 2 x Bespoke Suspended Orbis™ Round Mirror Polished Brass Frame Brass Backing (762 x 41mm)
Alguacil & Perkoff
Regular price £5,400.00 Sale
Set 2 x Bespoke suspended Orbis™ silver tint with elegant polished brass frame and front illumination.
Mirror dimensions: 30" Diameter x 1.61" Depth (762 x 41mm)   
Mirror drop: 26.9" (685mm)  
OH: 57" (1447)  
The mirror is completed with:
- Solid brass backing  
- 1 rod (un-attached) 
- Ceiling round plate for ceiling suspension 
***All above prices exclude import duties and local taxes.***     
Our current fabrication lead time is about 6 weeks. Please note that as we are fast approaching the end of the year celebrations, we would like to inform you that our workshop will be closed from 23rd December to 3rd January. This means that we are no longer able to accept orders for suspended mirrors for delivery prior to 22rd December. Any orders received from now until the end of the year for such suspended mirrors will have a fabrication time of 6 weeks excluding those last two weeks of December.  
The above quote is in effect for the next 30 days.