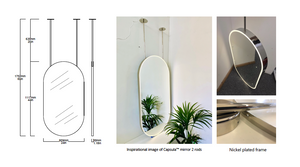 Supplement For Bespoke Mirror: Suspended Capsula™ Mirror Nickel Plated 2 Rods (1117 x 609 x 30mm)     
Alguacil & Perkoff
Regular price £1,250.00 Sale
Supplement for bespoke suspended Capsula™ mirror with standard silver mirror tint and elegant nickel plated frame
Mirror dimensions: 44" Height x 24" Width x 1.18" Depth (1117 x 609 x 30mm) 
Mirror drop: 25" (635mm) 
OH: 69" (1752mm)
The mirror is completed with:
2 rods (UN) 
Ceiling round plate for ceiling suspension 
Backing colour: TBC 
No illumination
Due to the mirror weight and dimensions, the mirror would be delivered with the rods unattached. Attaching the rods is quite straight-forward, and we provide a short video that makes it easy for the installer. 
Supplement for mirror: £1,250
Supplement for shipping: £150.00
Total supplement: £1,400.00
*** IMPORTANT NOTE - All prices above exclude local taxes and import duties. ***  
Our usual fabrication lead time is about 6 weeks. From receipt of payment.  
The above quote is valid for the next 30 days.